Trucking industry saw 'Christmas rush' ahead of lockdown
In the days before coronavirus cases spiralled upward and Melbourne sank into strict stage four lockdown restrictions, a "Christmas rush" descended upon scores of trucking depots across the east coast.
Local manufacturers were desperate to move stock, bound for other parts of Australia, out of Victoria before restrictions came into place, while thousands of tonnes of supplies were being trucked into the state to meet an expected surge in demand.
Through the peaks and troughs of coronavirus and subsequent border closures, the freight industry has remained one of the few constants in the country's economy, with thousands of trucks threading their way across Australia's east coast relatively immune to local restrictions.
More than 1000 of them are from Cameron Group, with many rolling through the company's 10,000 square metre Glendenning depot each day.
While truck drivers sleep in their cabins near the entrance, forklifts whiz between rows of assorted goods at the massive western Sydney floor-space 16 hours a day.
One-tonne bags of peanuts sit near boxes of hand cream, tupperware, popcorn, Indian Pale Ales and even dog food.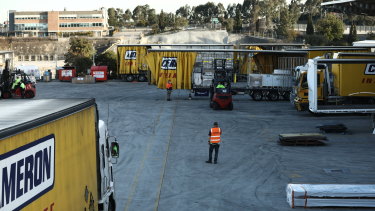 The assorted boxes won't sit here for more than 48 hours before they're loaded onto trucks and sent north to Brisbane, south the Melbourne overnight or filtered through the local Sydney market.
The 45-year-old trucking company moves around 40,000 pallets of goods across the country each day, regardless of the ebbs and flows of the pandemic.
A pair of workers sit in a small adjoining office, monitoring the speed and direction of the trucks as they dart across the country.
Despite warnings from some business voices about potential risks to the country's supply chain, Cameron Group chief executive Nick Capp said the shutdown in Victoria may prompt a brief slow-down but he doesn't anticipate it to have any large medium- or long-term impact.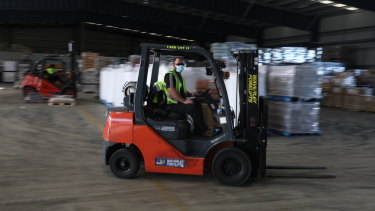 "There's no doubt it will create a bit of a slow-down," he said.
"But you should expect that supply should be pretty good, pretty strong, if not just below normal."
He said the shutdown could affect Victoria's meat supply, but other states would be able to supplement any shortfalls in the local market.
"Are we going to have a critical shortage of items? I can't see that at this stage," Mr Capp said.
While they've experienced a relatively modest overall drop in business through the COVID-19 crisis, the past few weeks have seen a surge ahead of Melbourne's lockdown.
"It feels like a Christmas rush, just because of the amount of activity," he said.
"With the uncertainty borne out of the border closures and stage four Victorian restrictions, people are rebalancing inventory. It's just businesses trying to manage risk."
Mr Capp said he was pleased with how respective state governments had managed their borders and communicated with the industry through the crisis.
He said poor policy decisions would be discovered quickly by the industry.
"The lag is typically measured in hours, because everyone is pretty highly attuned to it now," he said.
This article was originally published by the Sydney Morning Herald and can be found here